Originality
of DYNTAR Saunas
"DYNTAR – Original is only one."
The company is engaged in full-scale production of sauna cabins, infrared cabins, sauna furniture and supply of other accessories, such as heating devices, auxiliary parts or cooling tubs. During production, the company uses a wide assortment of 12 types of materials, imported mainly from Finland, Germany and Austria. These materials are treated so that they give completely original style and appearance for the cabin. The specificity is horizontal decking and a unique structure of the sauna cabins, which enables using each centimeter of the space. The specialty is a frameless glass door with a grinded-down edge under the angle of 45 º, which ensures precise details and minimalizes energy losses. Customers often use a connection of relaxation in the warm environment with music-therapy and with experience from colors. Saunas are controlled with regulation produced by our company, as well as infrared cabins with infrared warming-up, which have been manufactured from 1996 after the Olympic Games in Atlanta, when they were used by sportsmen before sport massages.
Ing. Karel Dyntar, MBA – company's owner and founder.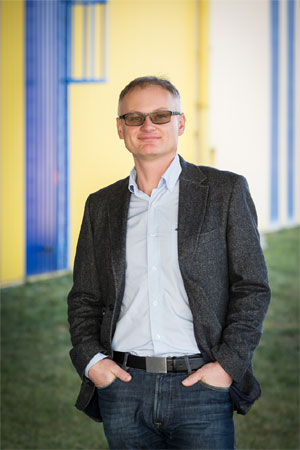 At the present time, private saunas are something as home cinemas. "We try not to copy and not to inspire by competitors, search for our own ways," says Karel Dyntar. "Sauna is about the interior and ergonomics. Feelings of relaxation and good temper are evoked by the naturalness of shapes. This is also a cause why we cooperate with young creators. The sauna Vizio was created within a diploma work of Mrs. Šárka Finsterlová, although nobody in school believes her that her proposal can be produced and would be functional." The bench Organic with a table was proposed by Mrs. Hana Jindrová, at that time a fresh graduate. The author of currently the last proposals is a beginning promising designer Mrs. Jana Černá again. "In the hurried time of overloaded managers it is important to relax," adds the company's owner. Sauna cabins can be placed anywhere from the cellar to the attic, from the garage to the garden, it depends on the space and preference of the submitter. However, till now a conservative opinion dominates that the sauna has to be in the cellar and for four people. But even a small cabin may be purchased for a big villa. The fact that sauna decreases its dimensions doesn't mean limitation of its possibilities. It is necessary to add that the owner itself has a sauna in his bedroom. "Sauna bathing is about feelings and about that you can clean-up your head, a home cabin indulges you in pleasure, when just you want, and is warmed-up in twenty minutes," he closes.
"DYNTAR - Most beautiful experience."
The meaning of our work is to bring the most beautiful experience to our customers, enable them a freedom of relaxation in the space created just for them, and deprive them of stress and tension from their daily work-load. That's why our cabins are not produced, but are created by us.
We create sauna cabins DYNTAR with the aim to bring a harmony and consonance of a human with the space, which encloses him/her. Designers of company DYNTAR create the premises, where a user literally merges with the sauna itself, keeps his/her thoughts lullaby in the armful fitted to the curves of his/her body. Curves, which get out in lightly gradating rhythm of the horizontal lines from the external cladding and calmly return again. DYNTAR saunas are a bridge, when people are really together face to face to each other. They are a refuge against the quick rate of our days.
DYNTAR saunas are rounded to enable the space to cozily flow, similarly as thoughts and dreaming. DYNTAR saunas are becoming to be an integral equivalent part of each interior, and, in the figurative sense, even daily life of people.
Original DYNTAR saunas exceed from the accustomed vertical lines. Thanks to our individual approach to each job order, you have a chance to select a color solution of the surface and by this easily reach harmonization with your interior.
Adequate ergonomics is very important in sauna bathing mainly for health reasons. Only in such designed sauna you can achieve a uniform warming-up the entire body.
"ehind each creative work there is an idea, which is a pillar of the whole proposal. Its individuality reflexes the originality of the final result."