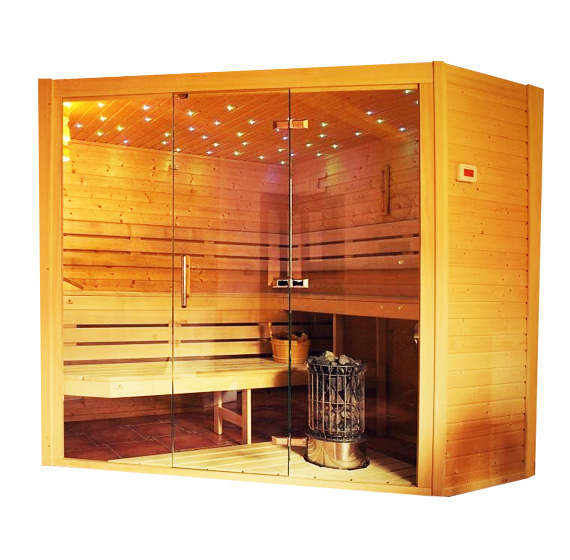 The most preferred way to make your body warm. The profound effect on your body, lungs and all body organs is guaranteed as well as true relaxation of your body and mind. As a result your immune system is boosted and stress released not to mention effective protection of your respiratory system, detoxification of your body, repair of damaged neurons and many other benefits of sauna.

The temperatures between 80 –110°C are ideal to increase your core body heat. Intense heat is alternated with cooling in a shower or a cooling water bath. We recommend repeating this cycle at least two or three times. Don't forget that the time spent in sauna is relevant to the time you spend in a room for relaxation. Taking your Finnish sauna can become part of your lifestyle and quality time you spend with your family and friends. The length of your stay in sauna is very individual depending on your actual need to relax and relieve your mind.


Finnish sauna
from Dyntar, Ltd.

Dyntar, Ltd. 12 reasons
for those who require to have a professional approach,
an original solution and a high quality of accomplishment.

Original solution for your finnish sauna

Maximun comfort for you during the whole realization

25 years experience in manufacturing saunas

Precise manufacturing of saunas in our own factory

Guarantee of the latest technology

Guarantee of the unusual and modern design

Production of saunas only from the most exclusive materials

Individual approach to design, manufacturig and installation of your sauna

7 years warranty on saunas, infrared saunas and wellness equipment

Lifetime warranty on selected sauna components

Delivery and installation of saunas free of charge

Express customer servis and post-warranty servis


Ask about finnish sauna online
and get 5% discount

By completing the inquiry form before placing your order you will get an additional discount 5% on the entire supply. Our specialist will contact you immediately to assist you with choosing.