Bespoke saunas – DYNTAR – the most beautiful experience
Individual (domestic) sauna goes together with individual (home) sauna cabins. A record called "Finnish Sauna" from a band Karamel starts with words: "Well, I welcome you. It is very warm here, 110 in the shade wow. I feel as if my body is a washcloth being wrung out, cheers it's apparently okay"… "Well, I welcome you. You have me here again, always faithful follower thy beauty. My body is pampered by the heat." Then it continuous by the refrain that perfectly describes what enjoying a sauna treatment is about: "Sauna is a true treasure, sauna melts my body, sauna is a treasure you are foolish, how great is the water bath, sauna is the secret of longevity."
Dyntar company has been seeking solutions, also developing sauna manufacturing for 25 years. Therefore we have very wide experience in this field. Original, designed and bespoke saunas include 90% of our production. We produce bespoke saunas tailor-made to the customer's requiremnts. For production of this type of saunas we have developed a unique D-panel which is the fundamental element for manufacturing of an individual and designed sauna. Each sauna cabin is an original and individual and it respects the specific dimensions of the given space and also the customer requirements.
The company uses a wide range of 12 kinds of material during the production of atypical designed saunas which is mainly imported from Finland, Germany and Austria. Nordic spruce meets all the requirements for a good quality panelling of saunas. It is the base material and it is currently the most widely used specially in the public sector. This material has small build knots and a minimum amount of resin, therefore you do not need to be afraid that you will get burned by leaking pitch. As a new method, the material is modified by a process called Thermo Processing. Floorboards and other material needed for manufacturing the interior and benches is treated by the heat in a kiln so that there are no changes in their physical properties afterwards. Using this method we have achieved to acquire a specific material which is suitable for wet areas as well as exterior. After this treatment timber changes its colour into honey colour and it is possible to combine it interestingly with natural light material. Our selection of facing material starts with Nordic spruce and then it goes from poplar, aspen, thermo aspen, pine, thermo pine and it carries on up to exotic cedar. All material is chosen and delivered in the highest quality (A quality).
This material is processed so that it can provide with a completely original style nad appearance to a cabin. The particularity is the horizontal placing of the floorboard cladding. The speciality is the glass and frameless door sanded at an angle of 45 degrees. It shows the precise detail and allows to minimize the energy loss. We will introduce you not only all of the above mentioned material but also some original designed sauna cabins in our store.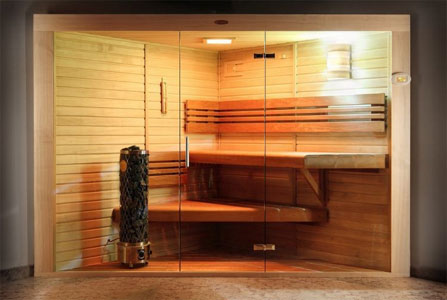 The purpose of our work is to bring the best experience to our clients. Enable them to enjoy the freedom of relaxation in a space created just for them. Helping them to leave stress and all the tension of their everyday workload behind. Therefore, we do not manufacture our sauna cabins but we create them. All glass sauna cabins are our speciality, they will literally connect you with the surrounding space. If you are looking for originality, forget about the floorboards and select large boards. They are made only from natural material and their upper part is made from veneer. There are more than 25 types of veneer you can choose from. Due to the wide range of veneer, there is a possibility of creating your sauna cabin which can be made from multicoloured exotic timber. In a normal circumstances this excotic timber is quite inadequate for a sauna. Unique sauna cabins should include unique heaters. They are placed underneath the benches and thus they become the safest heaters which will be appreciated the most by families with small childeren. Quite recently manufacturers have started developing a radiator heater so called a "basket" type heater. They operate on the principle of using lower temperature while heating up the sauna cabin and conversely increasing temperature and humidity is done by pouring water onto the heater more often. Simply said. A bigger amount of stones is used, about 80 kilos, in order to evaporate more water and also stop leaking water onto the floor. This type of heaters also give you a huge aesthetically ballanced impression and users can get the feeling that they really came to the real Finnish sauna.
Each original electrically heated sauna has a thermo regulator. Dyntar company has developed a touch screen regulator which enable you to regulate four electric devices at the same time. In addition to the classic sauna heater there is the infra-technology ( VITAE emitters ) due to them you will achieve to have a combined sauna that allows you to enjoy the kind of sauna relaxation which you would like to have at that particular moment. Another type of the combined sauna is a BIO sauna, where we use a heater with a steam generator. Finally, you can control the intensity of the light as well as the coloured light with our unique regulatory control.
Furthermore, there are outdoor saunas. They are manufactured to fit perfectly to your space and provide you with the best experience. Wood heaters are suitable for outdoor saunas. You will be surprise by the variety of these heaters. A common item for outdoor saunas is considered to be the basket type of heaters, otherwise setting a fire externally could be thought through as an option. The instalation and operation of the wood heaters ia a subject to the rules to be strictly followed, otherwise your outdoor sauna can catch fire.
Accessories for your outdoor sauna you cannot be without:
1) A set of built-in speakers or in other words music therapy with adequate music.
2) Starry sky – it is a very effective source of light using 45 pcs of LEDs. The light regulation ensures a smooth change of colours or it remains on the selected colour.
3) RAINBOW – LED rainbow light – glare-free high-tech LED coloured light creates a unique, gentle and soothing lighting moods and efects. Glare-free high-tech LED offers besides white light also brilliant, bright and exotic colours of the rainbow – it is the entire colour spectrum of primary colours: red, green, blue and 8 other combinations of a set programme. 12 colours can shine individually or they can change variously according to your settings. They can transfer you into the mood of the mysterious seasons of the year.
4) Spotlights above a heater – they bring very effective lighting of the heater itself as well as the steem coming out of the heater. 3 pcs of special spotlights.
5) + much more accessories.
All our atypical, bespoke saunas compare in price to standard saunas.
Construction preparedness: A sauna cabin can be erected almost anywhere but we should always be notified about your desired place in order to offer you the best solutions and appropriate technology. Generally required: Ceramic tiles need to be laid to create the base for a sauna and then cable CYKY 5x2,5 has to be brought to the same base. The cable has to be protected by a circuit breaker 16A and an earth-leakage breaker. It is recommended to bring the cable to the ceramic base in the height of 2 m and approximately the length of 3 m must be left in the roll. A heater, a regulator and a light will be connected to the cable. There are no special requirements for the ventilation. However, as far as built-in cabins are concerned, it is necessary to provide an air intake and output system when placing a heater. If it is the case of supplying a heater with a steem generator, then it is recommended that a window or ventilator should be installed for venting moisture.
In our product portfolio you can find wide range of original sauna cabins which we are able to modify accordingly to your needs and the measurements of your space.
If you decide for an original solution for your sauna cabin, do not hesitate to contact our professional advisors who are always happy to help.